What is the deal with girls, highwaisted shorts, and butt cheeks?
Why is this all of a sudden becoming a thing?
First off, I want to apologize in advance because if I see someone walking by and their butt cheeks are hanging out, I am going to stare. Not that its necessarily a bad stare, but it's more a long the lines of "Am I really seeing this?" I used to think, man someone should tell her because she obviously doesn't know that half her butt is coming out of her shorts. As time went on though I noticed more and more girls with their cheeks hanging out, and I started to realize that it was being done on purpose and I quickly faded out of my "am I really seeing this" stare phase.
The thing is though, I'm not the only one staring... everyone is. Does that bother you? Everyone is walking by and silently judging you and you still show up in the Starbucks line ordering your green tea latte as if you're fully clothed like the rest of us!
Maybe your in denial and are thinking "I don't have a butt so nothing is going to fall out." WRONG! Everyone has a little something there and i'm all for "if you've got it, flaunt it" philosophy, but respect it also.
Your butt cheeks should never go past the hem line (or frayed line) of your shorts....
From the front you look great!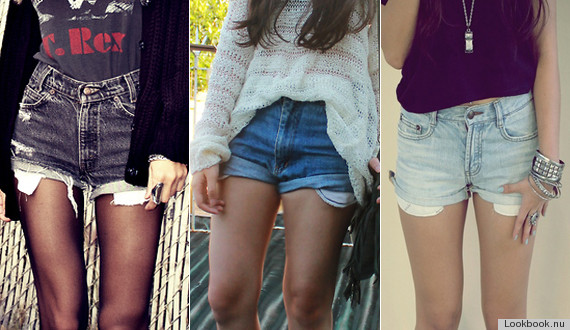 but next time turn around in your mirror and check your BEHIND because you might just look like this
Do you feel a breeze down there? Have you tried pulling your shorts down? Has that camel toe shined through yet? A denim camel toe... that sounds painful... How's that wedgie feeling? Its been about 2 hours and there's been no movement on your shorts. I'm surprised I cant see your underwear...oh... well that's self explanatory.
Good talk y'all. Wear what you want, don't let anyone tell you to be anything less than yourself, etc. Cheers to the oddly trendy yet disproportionately long butts taking over the world one pair of shorts at a time. You do you, booboo.
#byeeeee