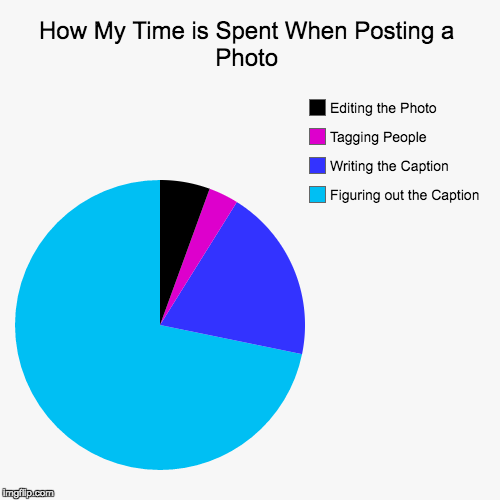 It is safe to say a good portion of photo app users have scrolled through timelines looking at captions they can recreate and replace under their newly added picture. It is inevitable. We feed off of others creativity and come up with something completely original for our own purposes. This situation has happened to more people than you would think. About 73% of photo app users stress about what caption they're going to put. Okay, no that's a lie, more like 73% of the time it takes me to post a photo is figuring out what to write underneath it. A picture says a thousand words but a caption will draw attention.
This is my Instagram routine.
1. Check out the photo
2. Check out the caption
Were you clever? Funny? There is a lot of pressure to nail the right caption for the right photo. You don't want to disappoint your followers. I am by no means a caption connoisseur but I like to think I have my hands dipped in the matter. Thus, I made a list of 50 captions for you to use freely. I got the pictures out of the way so there's no beating around the bush. Plus, maybe all you needed was a little inspiration...
Captions for when you actually go out:
-We sip champagne when we're thirsty
-Lost somewhere between Jack Daniels and Jesus
-Add a little confetti to each day
-Life is a party, dress like it
-Nowhere to go but everywhere
-It never rains during the weekend
-I'd rather laugh with the sinners
-About last night...
Captions for that flame selfie:
-I heard you're a player. Nice to meet you I'm the coach
-Dazed & Amused (Amazed?)
-Why chase you when I'm the catch
-Some are lost in the fire, some are built from it
-Coffee in one hand confidence in the other
-She wasn't looking for a knight, she was looking for a sword
-Clever as the devil and twice as pretty
-Welcome to my soul
-*Insert clever Drake lyric*
Captions for that photo with your best friend:
-We came, we saw, we conquered.
-Boys are whatever friends are forever
-Thank them for something you wouldn't normally thank them for
-This is the time for small paychecks and big memories
Captions for the love that will last:
-Love is a strange dark magic
-You bring out the wild in me
-Anything with you means everything to me
-Describe your relationship in one word
-There are all kinds of love in the world but never the same love twice
-Write a memory, maybe one your S.O. forgot about
Captions for that land far far away:
-I can show you the world
-What do you think of the view
-Take a ride on my energy
-Catch a glimpse
-Perfection in living
-We fly high, no lie, you know this...
-Missing the promise land
Captions for that miscellaneous, what are you even doing in this photo:
-You have witchcraft on your lips
-Good girl with a hood playlist
-Easy like Sunday Morning
-There is no cure for curiosity
-I Bend so I don't break
-What a throw
-(on the contrary)What a catch
For more Instagram tips by me check out How to take Better Instagram Pictures. Otherwise please feel free to leave any other suggestions in the comments. Wishing the caption creators presence among you during this stressful time.
A picture is worth a thousand "Are you kidding me?" looks